Actualmente se encuentra en:
Jets RC - F/A-18E 64mm "Jolly Roger" RTF
Descripción del producto
El F/A-18 conocido como el "Hornet" es un avión de combate supersónico que puede performar en cualquier condición climática, diseñado para atacar objetivos aéreos y de tierra. Introducido en los años 80s y capaz de volar a 1,190mph a 40.000 pies, algunos de estos modelos todavía están en servicio activo realizando funciones de escolta, caza, defensa aérea, la supresión de defensas aéreas enemigas (SEAD), interdicción aérea, apoyo aéreo cercano y reconocimiento aéreo. El F/A-18E ha sido una opción popular de combate para el despliegue de portaaviones. El Escuadrón Strike Fighter 103 (VF-103), apodado el "Jolly Rogers" es una unidad de aviación de la Marina de los Estados Unidos establecido en 1952. Quienes vuelan el "Hornet" adornado con una siniestra calavera y huesos cruzados en las aletas, y estos aviones han sido reproducidos en el modelo que ofrecemos.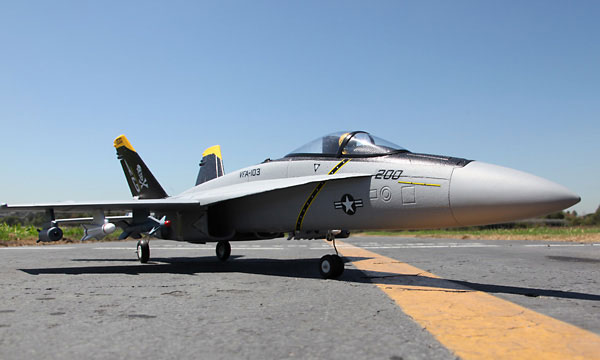 Este modelo a escala ha sido maravillosamente terminado con tecnología CAD y, esto es evidente en la calidad y acabado realista que se ve en este modelo. Todas las piezas han sido pre-pintadas cuidando el más mínimo detalle, el avión realmente luce fantástico y como un bono adicional está ensamblado en un 95%, lo único que debes realizar es unas cuantas etapas de ensamble básico y podrás poner este modelo a acariciar los cielos.
Este jet es muy estable y tiene la cantidad justa de poder, sólo un par de movimientos en el acelerador y tendrás a este jet listo para el despegue. El modelo de Jolly Rogers se acelera tan rápido como un cohete y se lanza a la atmósfera con facilidad y ¡Una vez en el aire comienza la diversión! El F/A 18E puede realizar casi cualquier maniobra de acrobacia aérea, pero debido a su estabilidad es una elección adecuada para alguien que desea aprender las emociones de los aviones de control remoto.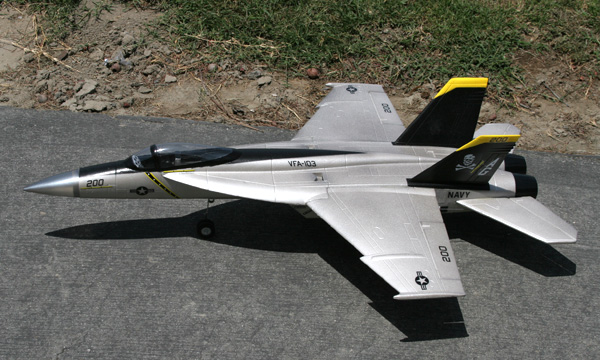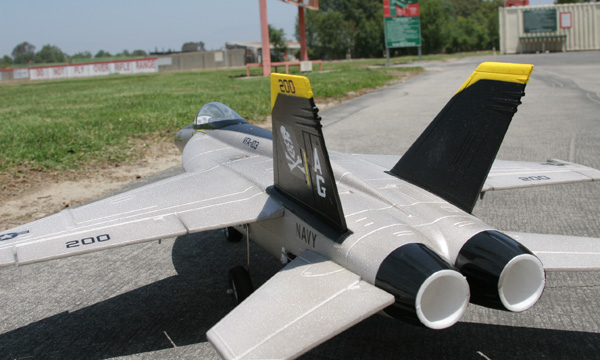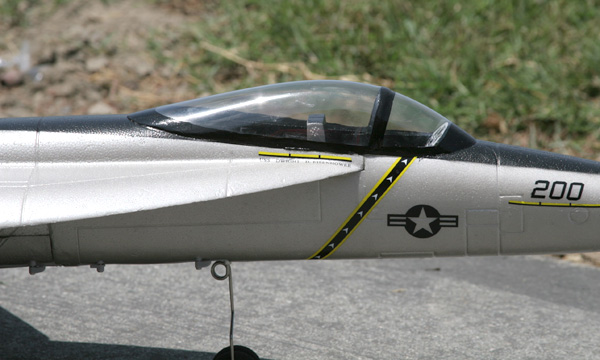 El jet está hecho de espuma de fuerte, pero ligero que lo hace más resistente a choques y le da más estabilidad de vuelo, incluso en condiciones de viento. Este jet puede despegar desde el suelo o puede ser lanzado manualmente.
¿Qué significa RTF? RTF es sinónimo de "ready to fly" (listo para volar).
The F/A-18 known as the Hornet is a supersonic, all-weather, carrier-capable, multirole fighter jet, designed to attack both ground and aerial targets. Introduced in the early 80s and capable of Mach 1.8 (1,190mph) at 40,000 feet, it is still in active service around the world in roles such as fighter escort, fleet air defense, suppression of enemy air defenses (SEAD), air interdiction, close air support and aerial reconnaissance. The F/A-18E has been a popular choice of fighter for aircraft carrier deployment. Strike Fighter Squadron 103 (VF-103), nicknamed the Jolly Rogers is an aviation unit of the United States Navy established in 1952. They fly the Hornet emblazoned with a sinister skull and cross bones on the tail fins, and it is these planes that have been reproduced in the model you see here.
Características
Especificaciones
Requiere Utilizar
8 batterías AA por el radiocontrol
Repuestos, Actualizaciones y Accesorios
También recomendamos
También pueden interesarle los siguientes productos
| | | | | |
| --- | --- | --- | --- | --- |
| | | | | |
Etiquetas del producto