Detalles
Our highest spec electric radio controlled car is the all new 1/8th brushless Werewolf. Designed with pro racing in mind this model will allow you to race and win at a National level. It's feature packed with many new exclusive innovations found only on this model that puts it ahead of the competition. The brushless setup with big powerful motor and 11.1V li-po battery allows the Werewolf to go well over 50mph as standard out of the box and then the upgradeable setup including the option to add an extra three batteries means the potential of the buggy is endless. For a race though a model needs to be quick on the corners as well as the straight and the Werewolf certainly has that covered with the highly adjustable settings and high spec design making it an all round race winner.
The Werewolf comes in two different versions, standard and pro. Although very similar the pro version has been upgraded with sway bars and front CVD shafts fitted as standard. The pro version also has aluminium shocks with adjustable turnbuckles whereas the standard has plastic shocks.

The brushless RC car comes fully built with everything you need to get racing apart from eight normal AA batteries for the radio handset. As the radio equipment is 2.4G it means many models can be raced together at the same time. This is a high spec racing model that at full speed requires some real skill to control it. It is therefore recommended for ages 14+
COUNTERSUNK ALUMINIUM CHASSIS
The solid aluminium chassis features countersunk screws that will protect your model from any rocky or bumpy terrain damage.
11.1v Li-po BATTERY WITH SIZE ADJUSTABLE BATTERY COMPARTMENT

The big LiPo battery makes the car very fast. The battery compartment is adjustable so can fit other after market batteries and even two batteries can be fitted at the same time.

1/8th SCALE
This buggy measures 505mm x 185mm x 310mm (length, height, width)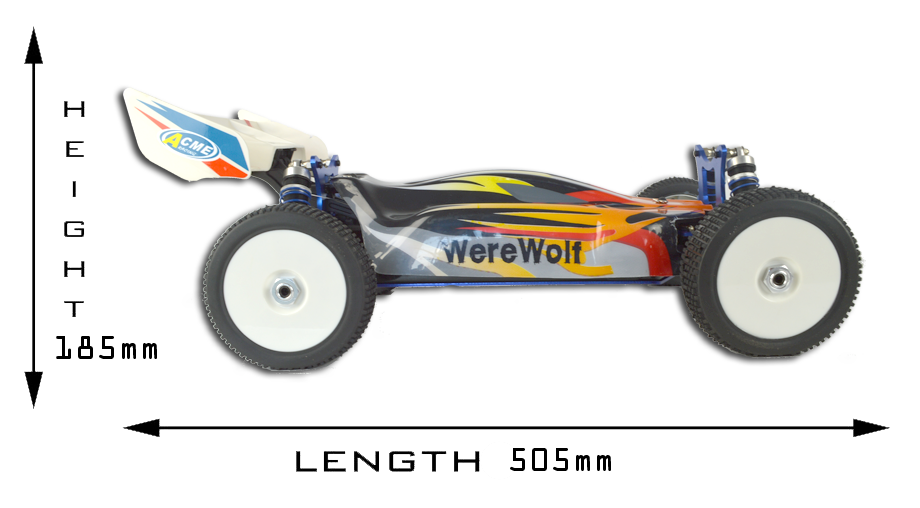 STEEL GEARED CENTRAL DIFFERENTIAL
As well as front and rear differentials, this model also features a third central differential to give the best possible handling.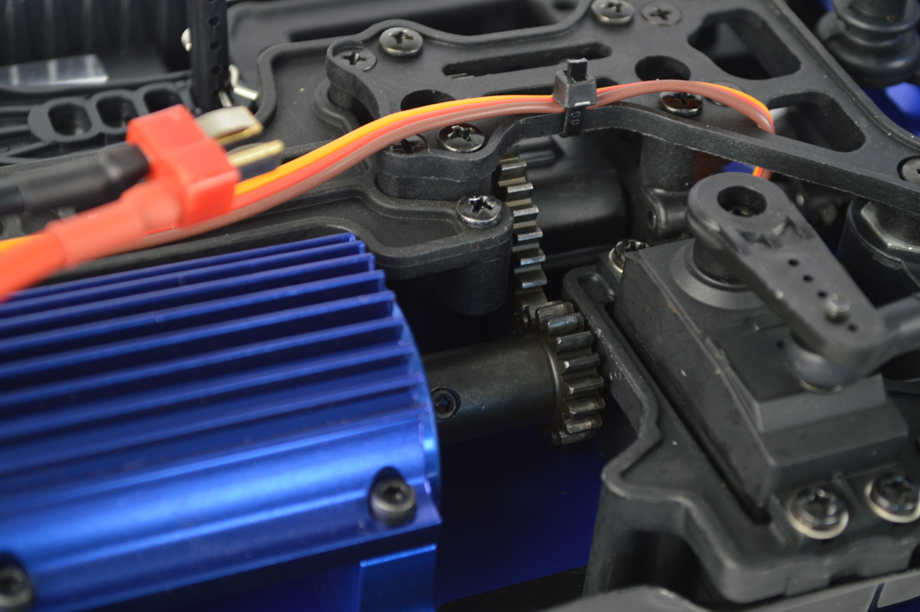 METAL GEARED STEERING SERVO
The gears in the servo have been upgraded from metal to plastic.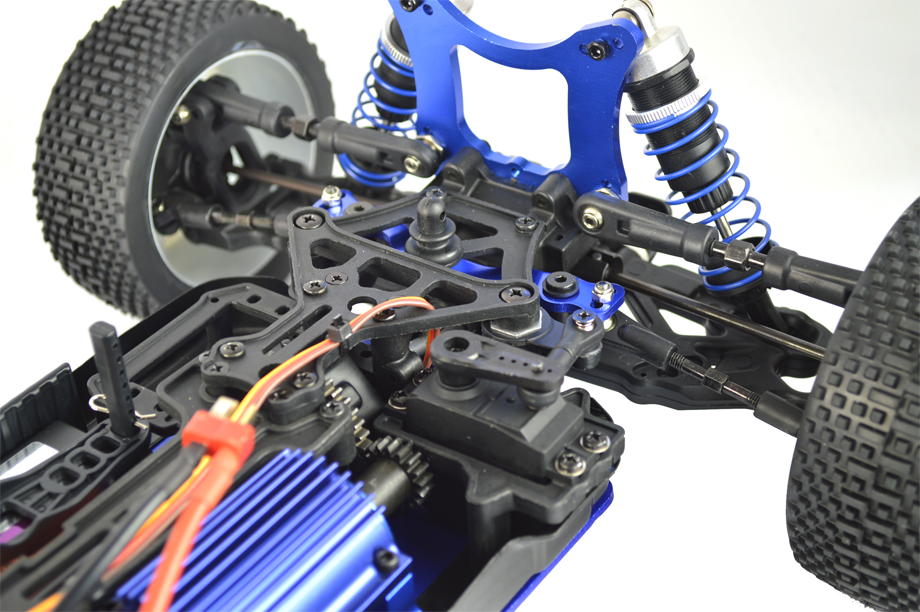 COOLED FAST BRUSHLESS SETUP
Brushless motors are much faster than standard ones. The motor has an aluminium heat sink and the speed controlled has its own fan to keep all the electronics operating at their peak temperature.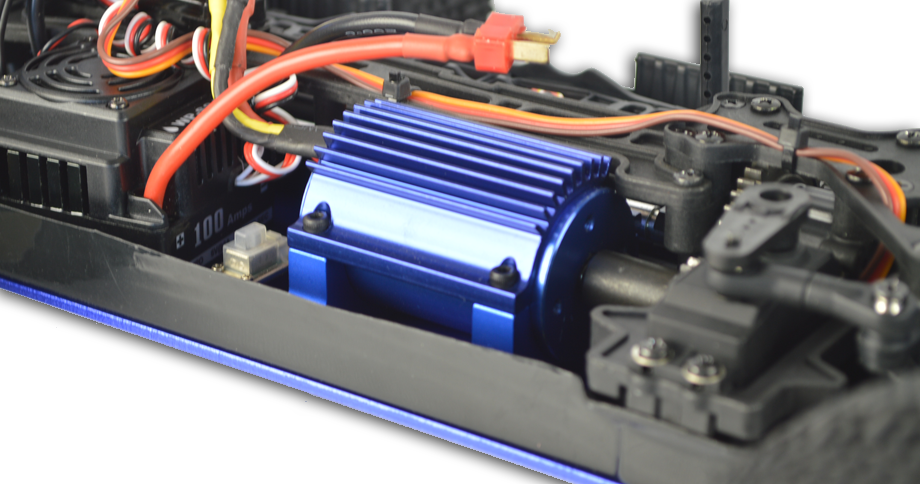 ALUMINIUM CENTRAL DRIVE SHAFT
The front and rear working differentials greatly improve handling. They are connected by a strong aluminium central drive shaft.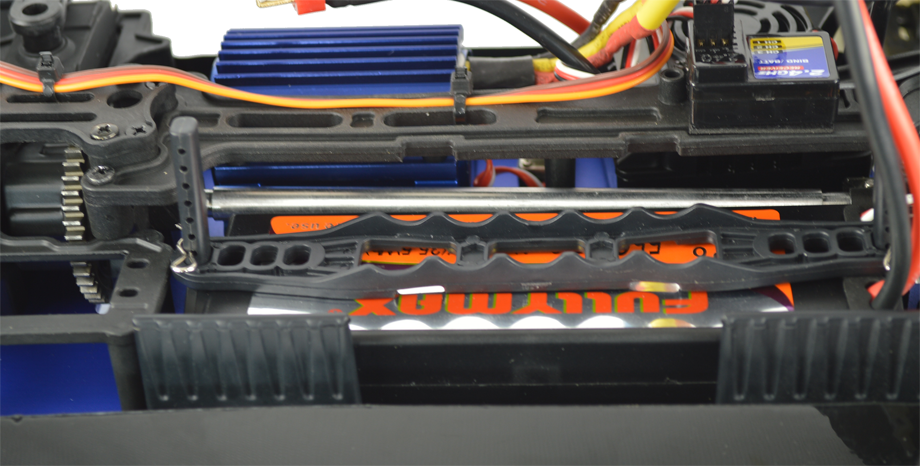 ALL NEW 2.4GHz RADIO TRANSMITTER
All new 2.4GHz radio technology is used. This is more reliable than the old FM equipment and allows multiple RC cars to be used in the same area without interference.
ADJUSTABLE SUSPENSION
Both the angle and tension of the oil filled shocks is adjustable.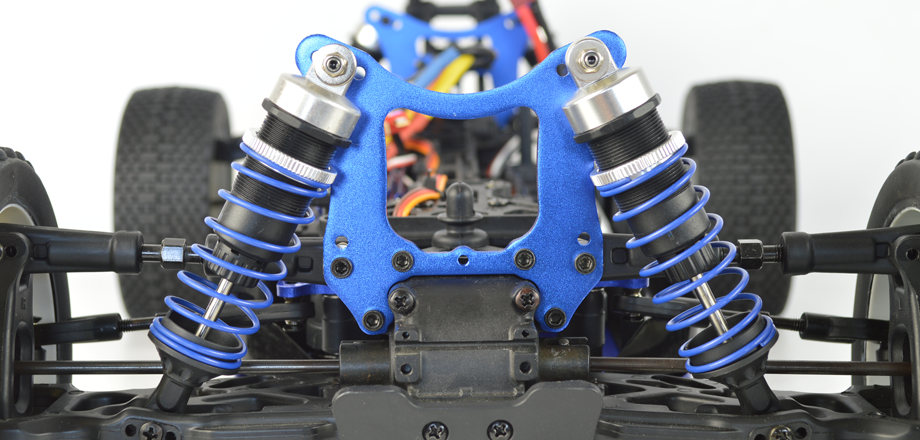 Información adicional
SKU (Número de Referencia)
A2015T
Fabricante
Acme-Tech
Escala
1:8
Fabricar
RTR
Conducir
4WD
Para Terreno
En carretera
Equipo de Radio
2.4 GHz
Tipo
Buggy
Motor / Motor
Sin escobillas
Especificaciones

Altura: 185mm
Longitud: 505mm
Ancho: 3 mm
Base de la rueda: 315 x 320 mm
Pista F/R: 3 mm
Distancia al suelo: 30mm
Peso: 3000g
Radio: 2.4Ghz Tipo de Pistola
Batería: .1V Li-Po con cargador
Motor: Sin escobillas con ESC
Escala: 1:8

Características

1/8 Coche sin escobillas
Altas velocidades extremas
2.4G Equipo de radio
4WD Sistema de accionamiento del eje
3 diff. eje de accionamiento 4WD
Chasis de aluminio de 2,5 mm
3mm F/R Alum. torre de choque;
Servo de dirección con engranajes metálicos de alto par
Ejes de accionamiento universales delanteros (versión Pro)
Todos los enlaces configurados con tensores ajustables
Opción para cuatro sistemas de freno de disco
Motor sin escobillas, ESC sin escobillas
Batería de Li-Po y cargador equilibrado
Además de muchos más. Vea las imágenes a continuación para el resto de las características.

Requerido para utilizar
Preguntas:
Aún no hay preguntas sobre el producto.
INFORMACIÓN DE ENTREGA
El costo de entrega y el tiempo dependerán del tamaño de los artículos ordenados
Repuesto Piezas
Se tardará entre 2-5 días laborables. El costo depende del número de partes y del tamaño.
Germany: €3.70 - €7.40
Spain: €7.40 - €13.30
France: €7.40 - €11.80
Ireland: €7.40 - €8.90
Italy: €7.40 - €13.30
Netherlands: €5.95 - €8.99
Portugal: €7.40 - €10.30
Denmark: 42kr. - 72kr.
Sweden: 52.80kr - 105.60kr
MODELOS DE TAMAÑO NORMAL
Esto no incluye artículos muy grandes como bicicletas eléctricas, scooters grandes y quads. La entrega tardará 2-5 días laborables.
Germany: €7.40
Spain: €9.99
France: €8.99
Ireland: €7.40
Italy: €9.99
Netherlands: €8.99
Portugal: €9.99
Denmark: 72kr.
Sweden: 105.60kr
ARTÍCULOS MUY GRANDES
Artículos muy grandes como bicicletas eléctricas, scooters grandes y quads. La entrega tardará 2-5 días laborables.
Germany: €49.90
Spain: €49.90
France: €49.90
Ireland: €49.90
Italy: €49.90
Netherlands: €49.90
Portugal: €49.90
Denmark: 499kr.
Sweden: 499kr.
4 comentarios de clientes
1:8 brushless buggy

matt parker April 17, 2014

Por

At the moment a bloody good deal once its delivered I will review it and tell what I really think of it but o will give it 10/10 for price and value

tgftgg

ben February 06, 2014

Por

cool nice buggy i love it

Great RC car. Insane acceleration. Great at jumps

lukas4654 August 27, 2013

Por

I have had this car for about 2 mouths now and I have had this car going 43mph i don't know where they got 50mph from... but the battery life is amazing so 43mph and a long play time isn't bad at all. this RC car is also very good at big jumps if the have the skill to land them well, i have had mine jump 6ft high =) All in all I give this car 4 out of 5 because of some little problems i have had with spare parts and cogs getting shredded because of this cars insane amount of torque. A great piece of kit and a hole lot of fun.

Amazing

Buz December 08, 2010

Por

I am a newby to RC cars . I decided not to go for an "entry level" buggy but rather opted for the WereWolf which looked pretty darn smart! I don't regret that decision as this buggy is awsome fun and amazingly fast. Perhaps rather faster than my reactions!

Anyone thinking about this buggy should better go for the Pro version and not the standard... The buggy is well built and pretty sturdy (especially when you compare it to similar priced models in many model shops) BUT it is not indestructible and the standard version has a problem with the front wheel drive shafts popping out of their wheel mountings on hard lock causing damage to the buggy - in my case to the cogs in the front differential. I've replaced my shafts with the pro's upraded CVB version and this is completely solved. The other slight weakness is the exposed design of the front shocks and shock mountings with almost naff all for a bumper. I've just destroyed the shock on one side by hitting a fence post just a little too hard. Again the standard version comes with plastic shocks. Maybe the pro's aluminium shocks would have been stronger. Happily Nitrotek do seem to have all the spare parts (or can get them) which you should factor in to your purchase as I don't think I'll be the only one needing bits from time to time.

I saw a few reviews suggesting that the wheel nuts come loose quickly. No joke. You need to tighten these much more than they come in the box. Maybe even use some threadlock. And you need to carry around some essential tools to tighten up a number of the fixings after a bit of racing or you'll end up searching in the grass for ages!

Despite a few niggles, you can't really have much more fun with a buggy than this. It surpassed my expectations, anway. I've had so may people look on in amazement as you hit the throttle and the thing takes off at incredible speed. Do the same on a gravel track and you can have that back end sliding round to do impressive 180 degree turns or incredible doughnuts! Just wish the battery lasted a bit longer.

Anyway, well done Nitrotek. You've made a middle-aged man feel like a boy again!
Escribir Tu Propia Revisión
Sólo usuarios registrados pueden escribir sus opiniones. Conéctese o regístrese